---

About nr. 1




"I try to surround myself with a constant necessity. I don't want to change, I want my environment to force change upon me. This way it feels more natural, more instinctive. Like a weathercock that turns with the winds. But instead of adjusting my course with ease, I want to be able to turn around and stare right into the wind. I want to look change in the eye and question its truth in front of everyone to see."

---
Walk Me Home, book, 2021
What is the essence of a home?
This question has been circling my mind for the past three years. In this time I constructed various types of homes and examined my own behavior while living inside them. When building I always started from a certain necessity that motivated me to push the limits of each construction as far as I could.
For my first home I restricted myself to using as much waste material as I could find, from which I learned that a decent home can be made without having to spend a lot of money.
For my second home I restricted myself to making my home as small as possible while still including all the essential facilities. This made me experience that two m³ is the bare minimum of space for me to live in.
For my third home I restricted myself to building a home not only small but also light in weight. A house I could take with me wherever I wanted to go. This resulted in a home that was cheap, small and mobile.
Finally I decided to take this last home with me on an eight day trip in search for big home owners who were willing to let me park my small home on their driveway. By doing this I wanted to start up a dialogue about what a home can be. But while listening to the people I've met on my path, it became so much more.
Interested in a book?
Mail to lemmens_stef@hotmail.com
---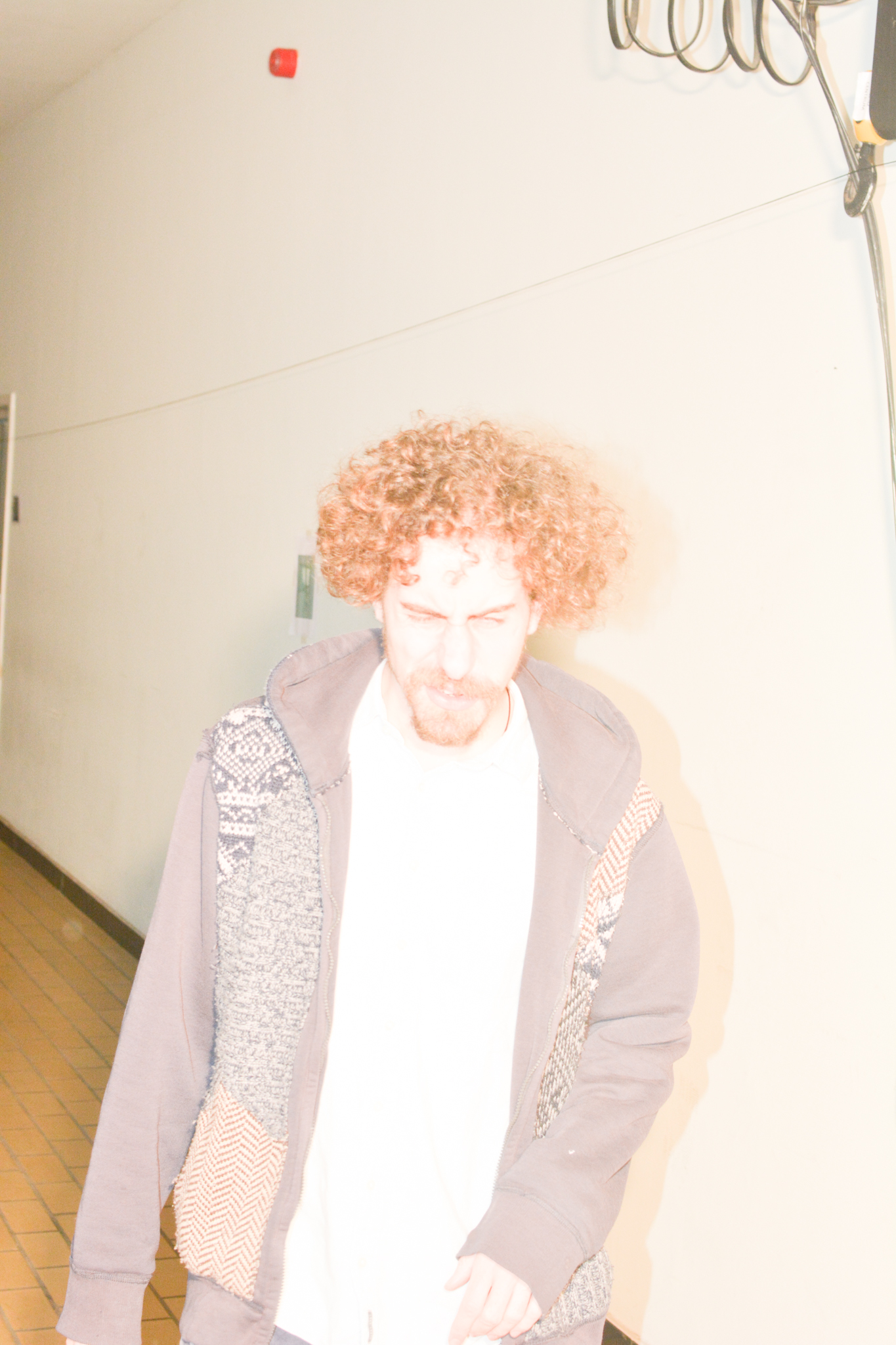 Weapon of Flash Destruction, installation-performance, 2021

I was invited to research the relationship between migraine and flashing lights for Magnificent Migraine Festival. I've never experienced migraine firsthand but I did see how it affected my mother when growing up. She would isolate herself in her room after turning it completely dark. When we are in pain while among other people we often try to hide this pain as much as we can. But when you are alone you can let this pain float through your entire body and face. I wanted to capture these pure facial expressions of pain which we only show when isolated.

I build this Weapon of Flash Destruction, which consists of one camera and three intense construction lights that are connected to one switch. By flashing the lights before taking a picture, it becomes possible to capture the discomfort someone is experiencing. Their expression is pure because just for a few seconds they are covered with this cloak of light, which isolates them from their surroundings.

---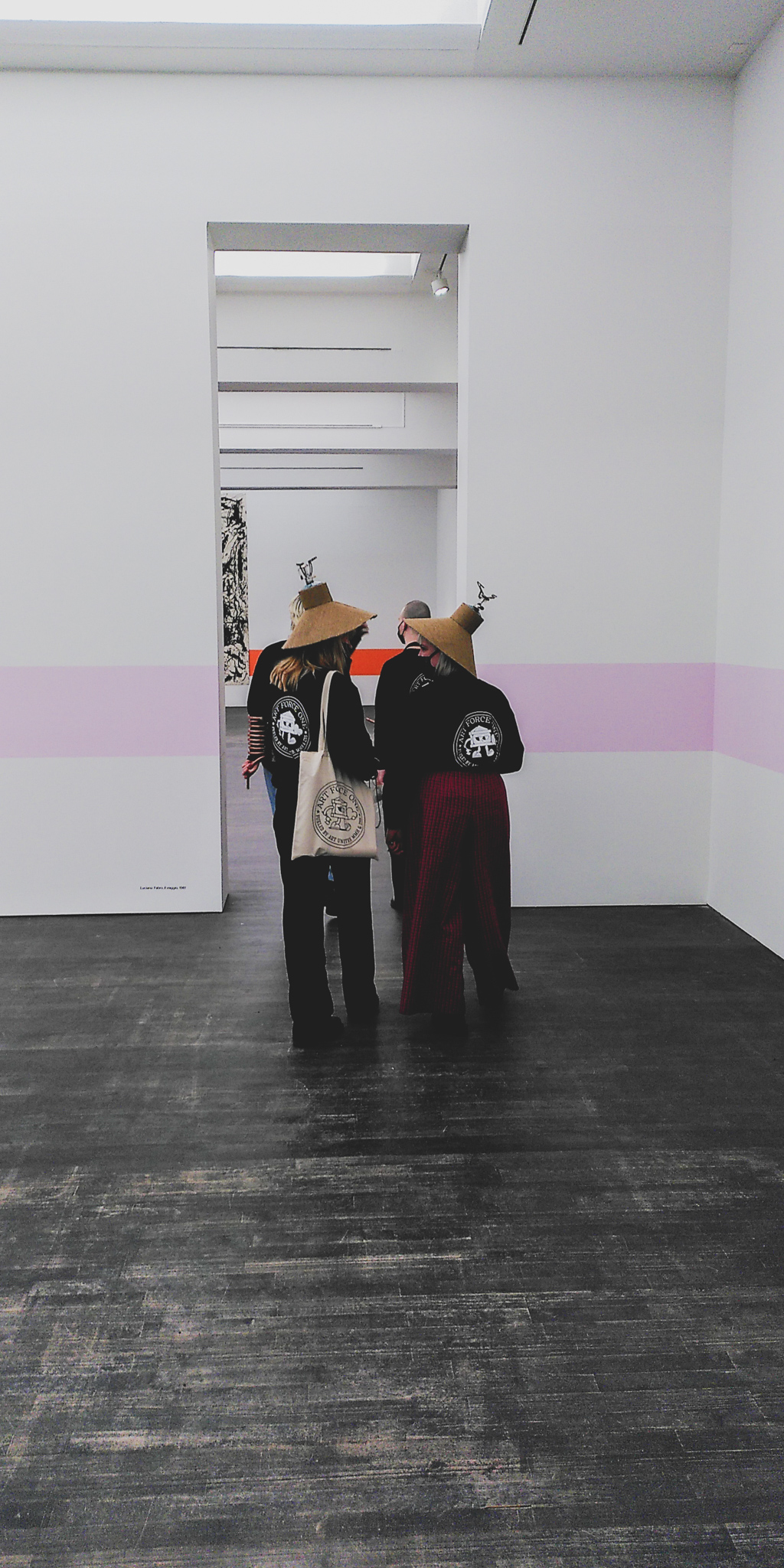 Wearable Space for Tea & Dialogue, happening, 2022
A museum often presents itself as a space in which visitors are encouraged to question certain elements of todays society, but unfortunately a museum visit is often an individual experience in which there is little room for people to actively discuss these topics on the spot.
For this happening Elke Cuppens and myself made five items which participants can wear when entering a museum. These items are all part of one tea ceremony. The participants are free to choose where they want to set up this ceremony and in which way they want to use the objects to make tea. This way we want to change the formal setting of a museum space into a more comfortable environment in which the participants are encouraged to take their time to talk about the art that is surrounding them.
Normally a museum does not allow food or drinks within it's exhibition space. By making these elements wearable we smuggle this ceremony inside because we are convinced of the communicative powers that are present within the simple & respectful act of drinking tea. The participants can use this ceremony as a tool, this way they become part of this happening in which we act to interact.
This work was made by
Elke
Cuppens and myself for
Z33
,
Modemuseum
Hasselt &
S.M.A.K.
Gent
---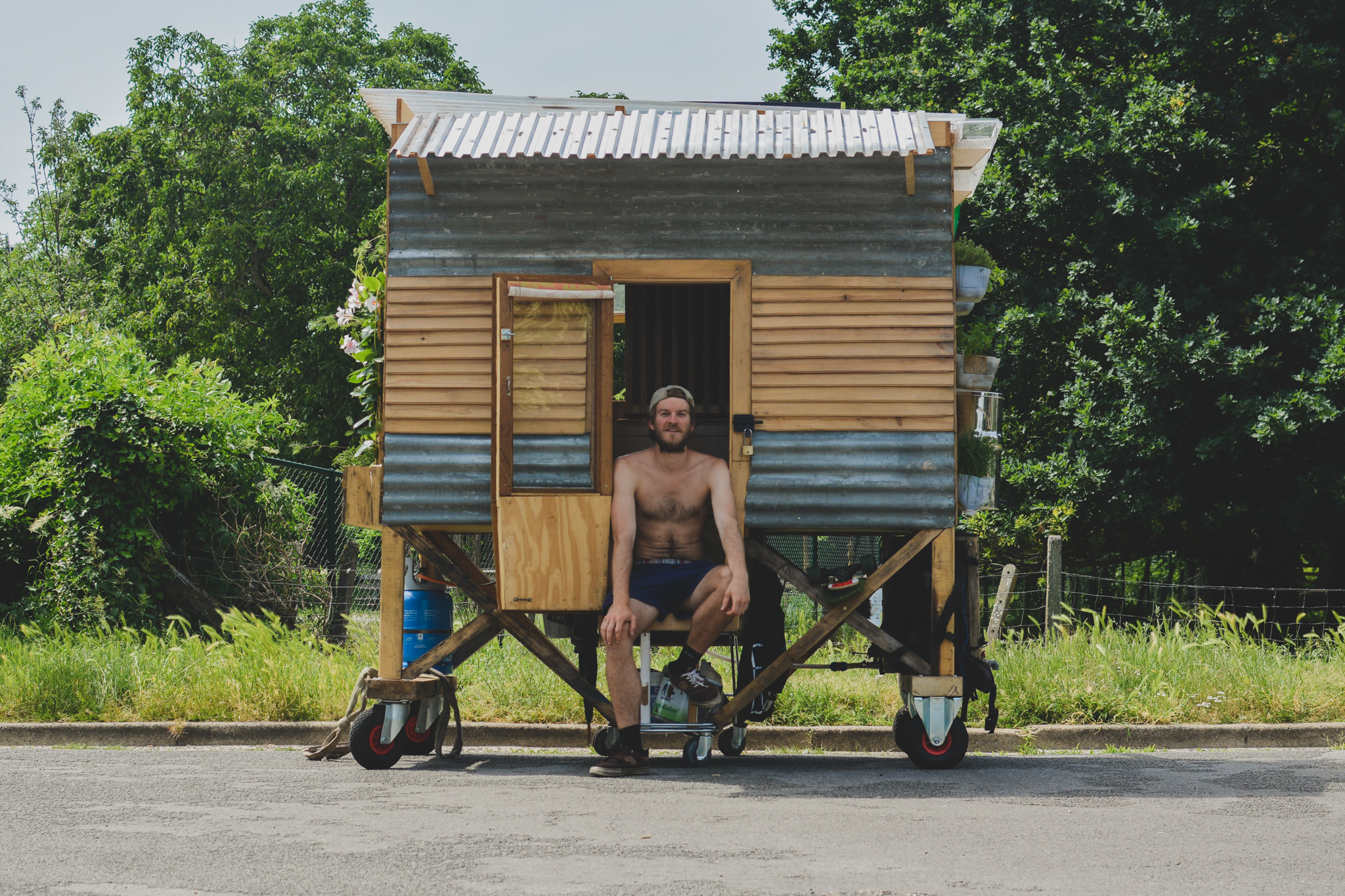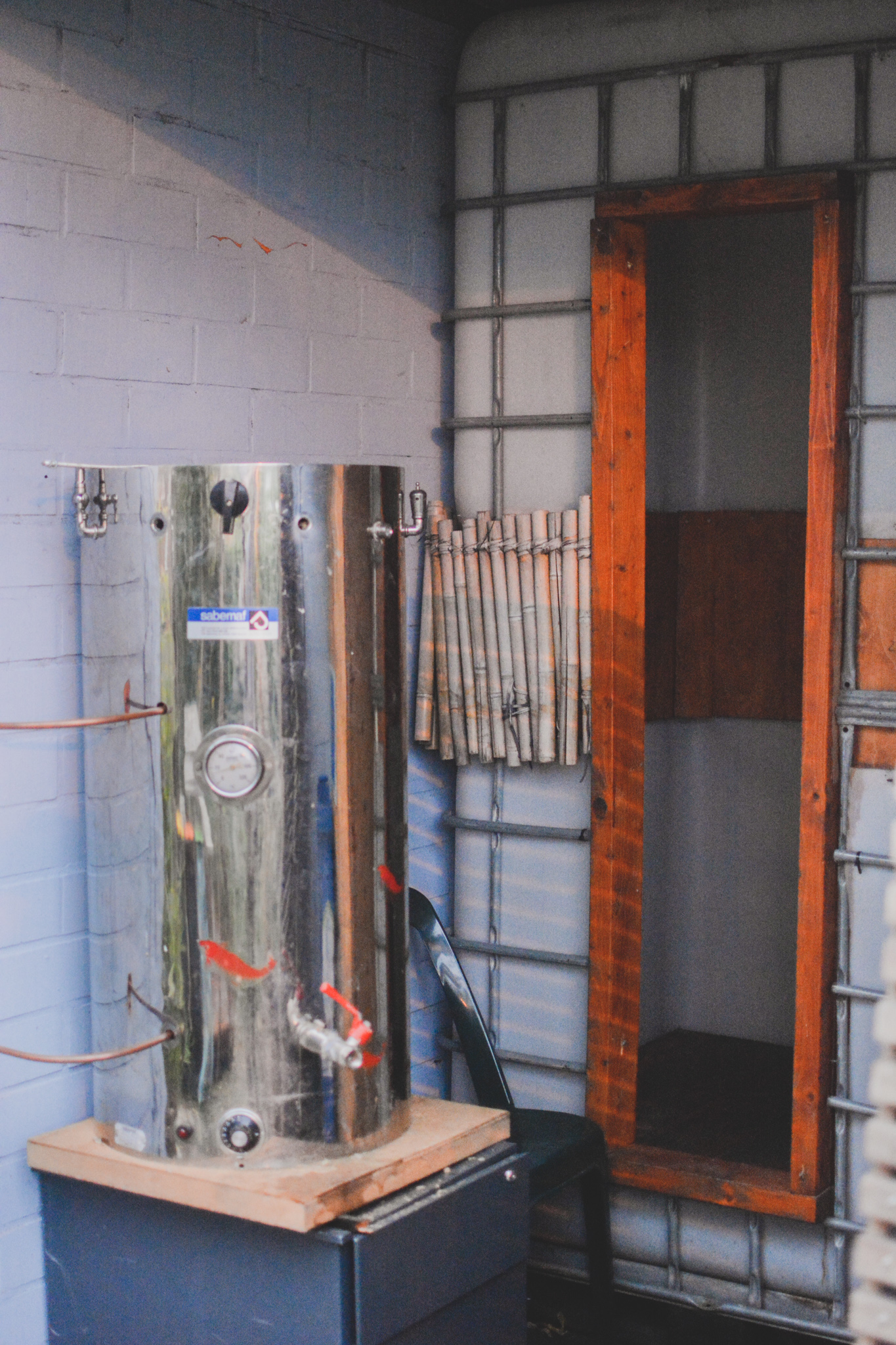 Crocodile Boulevard, space-making, 2021

On the first of January 2021 a small group of people occupied an abandoned space in which they wanted to manifest a new, conscious way of living. This space was soon named Crocodile Boulevard, a self proclaimed street in which 6 people are currently doing an artistic research on community building, small living, permaculture, self-sustainability and wellbeing. We share a vegetable garden, an off-grid community kitchen, a composting toilet, a rainwater shower and a stage on which we invite musicians, artists or performers.

Initially each inhabitant of the street started researching small living on an individual level, building a home that was specifically designed to fit the personal needs. Later on we started thinking about a communal space were we could share certain facilities. For this we redesigned an old concrete structure located at the centre of our street. We cleaned it, build a roof, gave it some color and started with the construction of an outdoor kitchen. For this we used the two left spaces of the concrete structure. Rainwater is collected on the roof and is used for cooking, doing dishes, cleaning... A rainwater filter purifies it into drinking water. We started cooking with gas but decided to build a stone oven soon after to experiment with open fire cooking.

Here our way of life is constantly changing throughout the seasons. When summer came to an end we decided to turn our outside kitchen into an inside kitchen. We closed off the space with lots of windows so sunlight could still get in. We also installed a wood stove with an internal oven on which we cook most of our food. Within this space we share heat, food, water, company and ideas for the future.

In the third space we installed a composting toilet and shower system. Instead of flushing our toilet we cover our excrements and urine with saw dust, ashes from the wood stove or leaves. Our shower is built with two IBC containers that are placed on top of each other. A door was carved out of the containers after which we finished the inside with wood. We wrapped a copper coil around our stove pipe which is attached to a broken coffee percolator that now functions as our boiler system. Cold water goes through the lower copper coil and starts heating up once it flows towards the stove pipe, the hot waterhot water starts to rise until it flows again into the percolator.

Because of the uncertainty of our next destination we have the luxury to put the experiment at the center of our research. All of these experiments are carefully documented and will be combined into an informative collection that will hopefully inspire many others who are struggling with the hectic and destructive way of living that is currently dominating our society. We see this reflection as a tool that can be used by others who wish to start their own community in which they want to react against mass consumption, throwaway society, the alienation from our fellow humans and instead embrace the simple things in life, being dependent on others, taking only what you really need and reusing whenever it's possible.

Current inhabitants: Tomas De Gregorio, Lore Praet, Elke Cuppens, Simon Gorremans, Milan Gillard, Jim Helmich & Stef Lemmens

Crocodile Boulevard is part of the interdisciplinary city experiment Maison Florida which was brought to life by the non profit organization The School Hasselt.