---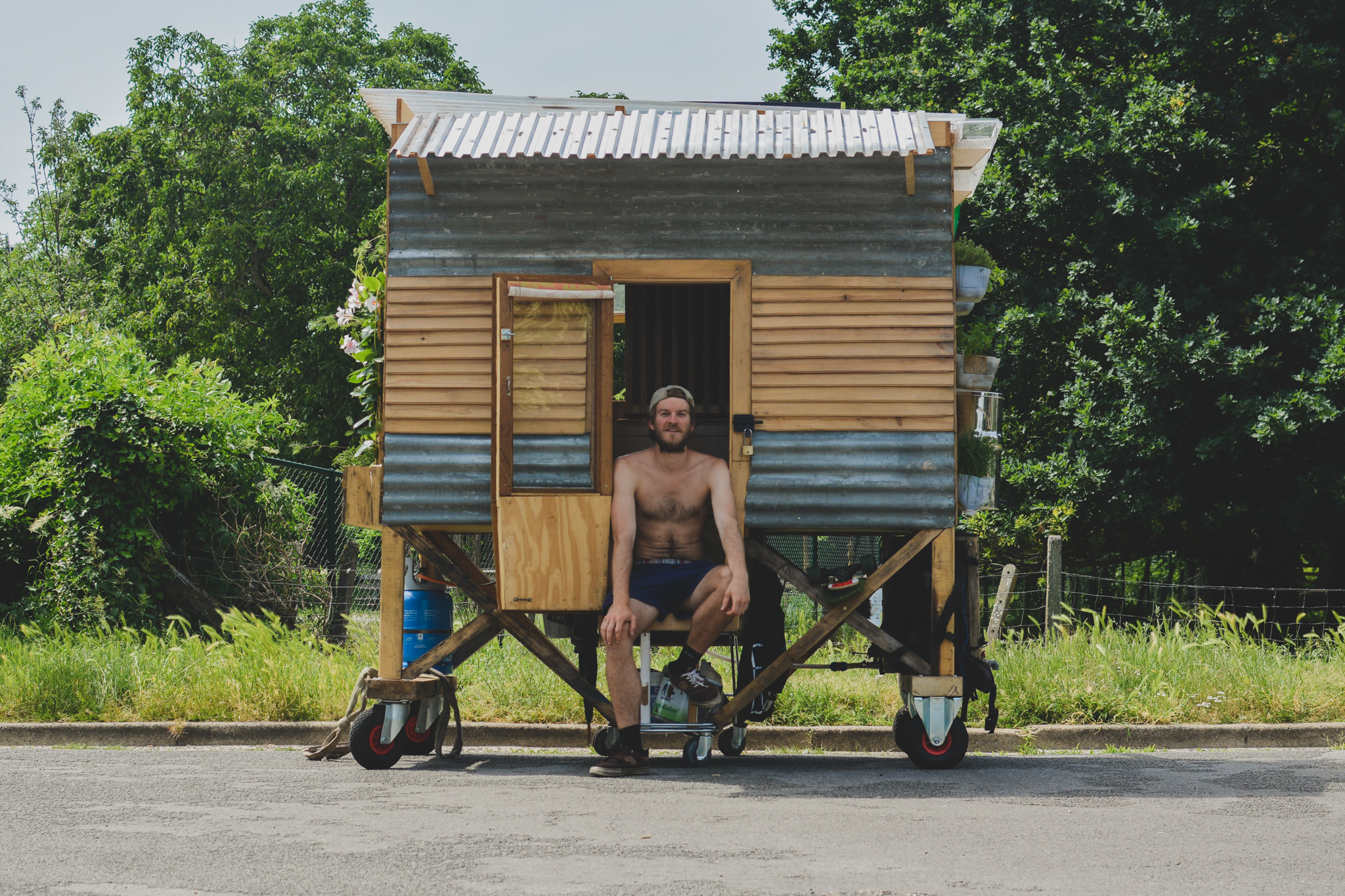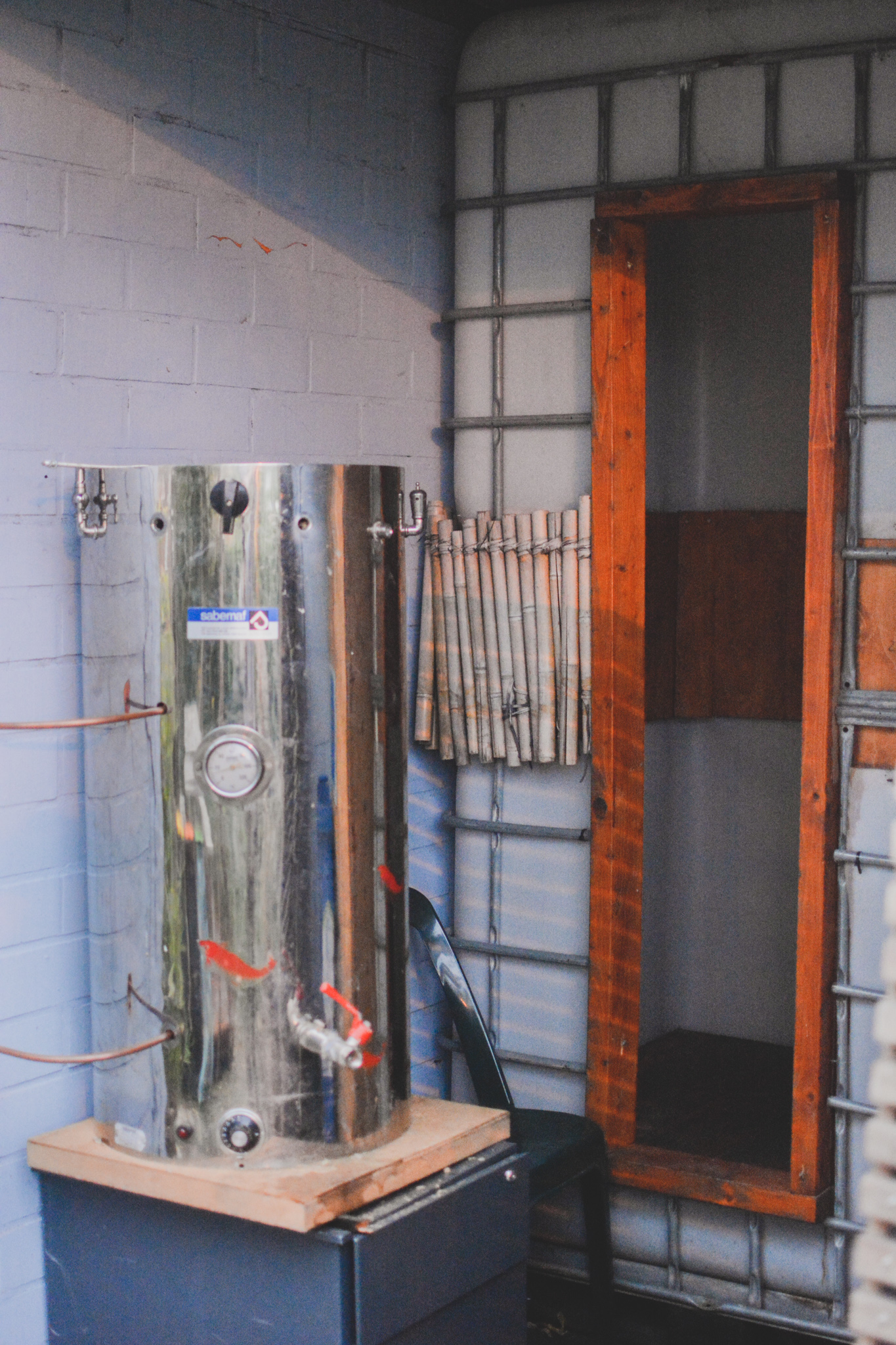 Crocodile Boulevard, space-making, 2021

On the first of January 2021 a small group of people occupied an abandoned space in which they wanted to manifest a new, conscious way of living. This space was soon named Crocodile Boulevard, a self proclaimed street in which 6 people are currently doing an artistic research on community building, small living, permaculture, self-sustainability and wellbeing. We share a vegetable garden, an off-grid community kitchen, a composting toilet, a rainwater shower and a stage on which we invite musicians, artists or performers.

Initially each inhabitant of the street started researching small living on an individual level, building a home that was specifically designed to fit the personal needs. Later on we started thinking about a communal space were we could share certain facilities. For this we redesigned an old concrete structure located at the centre of our street. We cleaned it, build a roof, gave it some color and started with the construction of an outdoor kitchen. For this we used the two left spaces of the concrete structure. Rainwater is collected on the roof and is used for cooking, doing dishes, cleaning... A rainwater filter purifies it into drinking water. We started cooking with gas but decided to build a stone oven soon after to experiment with open fire cooking.

Here our way of life is constantly changing throughout the seasons. When summer came to an end we decided to turn our outside kitchen into an inside kitchen. We closed off the space with lots of windows so sunlight could still get in. We also installed a wood stove with an internal oven on which we cook most of our food. Within this space we share heat, food, water, company and ideas for the future.

In the third space we installed a composting toilet and shower system. Instead of flushing our toilet we cover our excrements and urine with saw dust, ashes from the wood stove or leaves. Our shower is built with two IBC containers that are placed on top of each other. A door was carved out of the containers after which we finished the inside with wood. We wrapped a copper coil around our stove pipe which is attached to a broken coffee percolator that now functions as our boiler system. Cold water goes through the lower copper coil and starts heating up once it flows towards the stove pipe, the hot waterhot water starts to rise until it flows again into the percolator.

Because of the uncertainty of our next destination we have the luxury to put the experiment at the center of our research. All of these experiments are carefully documented and will be combined into an informative collection that will hopefully inspire many others who are struggling with the hectic and destructive way of living that is currently dominating our society. We see this reflection as a tool that can be used by others who wish to start their own community in which they want to react against mass consumption, throwaway society, the alienation from our fellow humans and instead embrace the simple things in life, being dependent on others, taking only what you really need and reusing whenever it's possible.

Current inhabitants: Tomas De Gregorio, Lore Praet, Elke Cuppens, Simon Gorremans, Milan Gillard, Jim Helmich & Stef Lemmens

Crocodile Boulevard is part of the interdisciplinary city experiment Maison Florida which was brought to life by the non profit organization The School Hasselt.